Mango Gazpacho From The 30 Minute Vegan

recipes

Saturday, January 7, 2012
Mango Gazpacho From The 30 Minute Vegan
Mango Gazpacho From The 30 Minute Vegan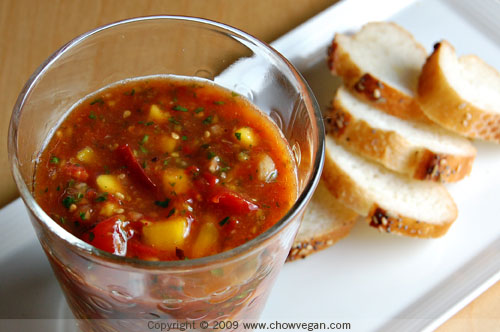 Since there's still a lot of tomatoes hanging around on this warm Autumn day, I decided to try the Live Mango Gazpacho from The 30-Minute Vegan. An interesting twist to the chilled raw vegetable soup, the mango adds a refreshing sweetness to the spiciness of the gazpacho.
As for the time, it took me 50 minutes to cut and chop up everything and I only made half of the recipe (ok, so I'm a slow cutter). And then 30 more minutes for the soup to chill.
But hey, after all that chopping, I got to kick back and enjoy a light, healthy meal without heating up the k
Additional text has been truncated due to copyright reasons. Things without URLs and private things don't get truncated.