I thought Zlatan Ibrahimovic was an 'arrogant b*****d' - AC Milan's Kevin-Prince Boateng

url

Sunday, July 17, 2011
I thought Zlatan Ibrahimovic was an 'arrogant b*****d' - AC Milan's Kevin-Prince Boateng
I thought Zlatan Ibrahimovic was an 'arrogant b*****d' - AC Milan's Kevin-Prince Boateng
By Salvatore Landolina
Jul 17, 2011 1:05:00 PM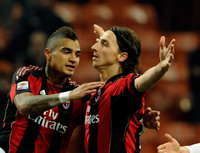 Kevin Prince Boateng, Zlatan Ibrahimovic - Milan-Brescia - Serie A (Getty Images)
Related Links
Teams
Players
AC Milan midfielder Kevin-Prince Boateng has admitted that he considered Zlatan Ibrahimovic to be an "arrogant b*****d" before they joined forces at San Siro last season.

Ibrahimovic has always been known for his motivation and desire to win, and Boateng has revealed his initial thoughts on the highly-rated striker before the Swede proved him wrong.

"I had thought Ibrahimovic was an arrogant b*****d, but he's really nice, kind and funny," the midfielder told La Gazzetta dello Sport.

The Ghana international also hailed veteran striker Filippo Inzaghi, who has signed a one-year extension at the club after a serious knee injury ended his 2010-11 campaign prematurely.

"As for Pippo Inzaghi, seeing him train at age 39 makes you think everything is possible. I'd throw up if I ran as much as he does," Boateng added.

Finally, speaking ahead of next season, Boateng believes teamwork will ensure that Milan can keep challenging for major honours, concluding: "This squad is fantastic and if we play as a team, then we can achieve any result."