Your Guide to Instant Messaging
Your Guide to Instant Messaging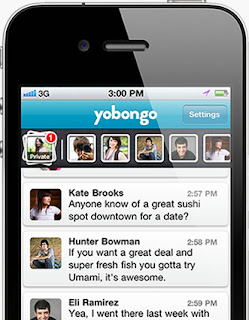 Yobongo is an iPhone application that allows you to chat with people nearby.
Chat with interesting people in your city, at a coffee house, at the park, anywhere. No complicated setup process, people to follow, or rooms to configure. Simply jump into the conversation happening around you.
Yobongo is compatible with iPhone, iPod Touch, and iPad. Requires iOS 3.1 or later.
Yobongo Features:
- Automatically connects with people nearby
- Start private conversations
- Connect with contacts already using Yobongo
- Real-time typing indication
- Push Notifications for new messages
- See photos of people you are chatting with
- Create account with your Facebook login
- Share with friends via SMS and Email
- Intuitive chat interface
- Community Guidelines to foster authentic conversation
via messenger.es