15 Awesome Google Search Tips and Tricks
15 Awesome Google Search Tips and Tricks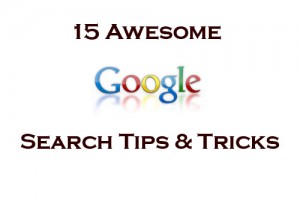 You may be using Google search multiple times per day to locate something on the web. Learning how to use Google search effectively can boost your productivity instantly.
 
This article is part of the on-going Productivity Tips for Geeks. In this article let us review 15 awesome google search tricks that will improve the quality of your online life.
Note: Also, check-out our earlier article about 15 Awesome Gmail Tips and Tricks, and 15 Essential Gmail Lab Features.

1. Identify Local Time for Any City in the World using Google
If you want to know cur
Additional text has been truncated due to copyright reasons. Things without URLs and private things don't get truncated.