Time Management for Creative Minds

gtd

Saturday, July 2, 2011
Time Management for Creative Minds
Time Management for Creative Minds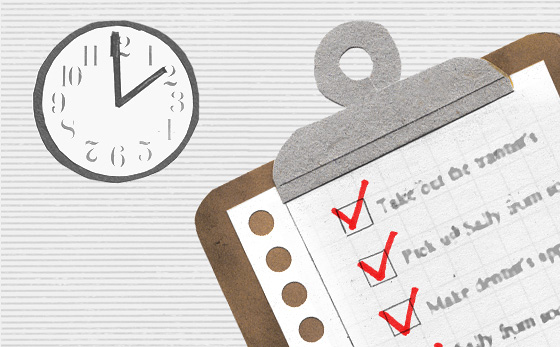 If you've ever missed a deadline or had to pull a red-eyed all-nighter, you've probably wished there were more hours in a day. While you can't pull a Superman and slow the Earth's rotation, you can learn to use your time more effectively. With good time management skills you do what you must do and have more time left for what you choose to do.
There are a number of prepackaged time management systems out there, combinations of strategies, tools and tips designed to help you organize and maximize your time. Ironically, you could spend a lot of time just studying the many systems available. Perhaps the most popular and time-tested is the aptly named Getting Things Done (GTD) system. GTD emphasizes perspective: keeping track of things by writing, categorizing and prioritizing notes, schedules, and to-do lists. Then, the system urges you to concentrate on the things you can actually do at any moment. For instance, if you happen to be at work and you don't have time to do your laundry. It also keeps you on top of your schedule by developing good organizational habits — a key strategy of other systems like Autofocus.
Formal systems are nice, but you can learn many of their teachings on your own and for free. By looking at what they have in common you can become a true master of your calendar by understanding their fundamentals.
Admit it: you're only human.
At its core, time management involves coping with your humanity. Our brains have evolved for survival, so we tend to focus on basic, short-term things like food, self-protection, and sex. Modern things like ten-hour workdays, college courses, and dentist appointments are far more complicated and persistent than basic needs and pleasures. The result is that we are horrible at setting priorities and sticking to tasks. Once you admit you're only human you can begin the process of self-improvement.
Elephants never forget, but you do.
How many times have you forgotten something you knew about long in advance? Your memory is far from perfect. Common time management strategies involve aiding your feeble memory by recording things and reviewing them regularly. Write everything down using old tools like notebooks and day planners — or newer ones like Things (Mac), Remember the Milk (web, mobile), or Google Calendar and Tasks (web). Use them often. You can't manage what you've already forgotten about.
Everything in its right place.
Once you've learned to keep track of the things that use up your time you then have to categorize them. A popular method is to divide things into short, medium, and long terms. It's obvious that a project due tomorrow is short-term and "become rich and famous" is long-term, but it's not always obvious that long-term goals are made up of shorter-term actions like "put ten dollars in the bank." Put all of your to-dos — and the components that make them — on your lists, sorting them from short-term to long-term. Update them regularly. If you use a calendar program then set them to recur on a regular schedule so you can automatically remind yourself to back up your photos or wish your great aunt a happy birthday.
Prioritize your life.
Doing things in the right order and at the right time is the key to having more time. Prioritizing can be difficult, but it's something you can learn to do well. First, focus only on the short term — that's what you'll be living in, after all. Next, ask yourself three questions: "Do I need to do this?" "Do I want to do this?" and "Can I do this?" Weigh the consequences of each choice. What you can do comes first, along with the needs. And always put what you want to do ahead of things you don't. Those will become needs soon enough, if they're important to you.
Don't let yourself procrastinate.
Your careful planning will mean nothing if you don't actually get things done. Procrastination is perhaps the biggest obstacle between you and effectively managed time. Everyone gets distracted, overwhelmed, or evasive; you're no exception.
Learn to recognize the times and situations in which you procrastinate and then plan against yourself. In Homer's Odyssey, Odysseus knew he'd be tempted by the beautiful sirens, so he had his crew-mates tie him up. Perhaps a more modern, passive-aggressive equivalent would be productivity software that forces you to stay on task, like OmmWritter, Writer or Concentrate (Mac) and Dark Room or StopDistractions (PC). There's also the cross-platform Freedom, which actually disables the internet for up to eight hours at a time. This may be overkill, but sometimes you need extreme solutions to avoid the alluring siren call of YouTube videos and Twitter updates.
Develop a routine.
Time management requires an ongoing commitment. You need to follow the steps every day and the best way to accomplish that is with a routine. Set aside times and places to do the important things and make them rituals. Every day at breakfast carefully review and prioritize your to-do list. Every night before bed categorize your notes and prepare the next day's schedule. Every Saturday or Sunday review and update your medium-term goals. Every first of the month review and update your long-term goals.
Get into the habit of getting things done. It might sound like a drag, but it can leave you with more time to do the fun stuff — which should be a part of your schedule as well. Recent studies show that brief mental breaks can actually improve performance. Account for them, but don't let them overwhelm you. An excellent method of self-imposing breaks is the popular (and free) Pomodoro Technique, which some productivity pundits swear by.
Time to get started.
What do you want to do? Nurture your talents, or develop your portfolio? Work fewer hours, or track down new clients? Party all night, or get some much-needed rest? It's up to you, but now's the time to make a choice.
Everyone's time is worth managing. Get started and stick with the methods that fit your unique personality and life — you'll realize success in terms of getting more done, having more free time, or a combination of both.