MooTools Forge | Mooniform
MooTools Forge | Mooniform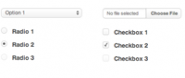 Mooniform is the porting of the famous jquery plugin uniform (by pixelmatrix) to mootools.
Releases
Dependencies
_self_/_current_: core/1.4: '*'
---
How to use
To use it you will simply need to follow the easy instructions below
Basic Example
First of all you need to include the following html tags:

<script src="/img.php?alt=piffn6&src=http%3A%2F%2Fmootools.net%2Fforge%2Fp%2F.%2FSource%2Fmooniform.js" type="text/javascript"></script>

<link rel="nofollow" href="http://mootools.net/forge/p/./Source/css/mooniform.default.css" rel="styleshee
Additional text has been truncated due to copyright reasons. Things without URLs and private things don't get truncated.