MooTools Forge | moostrapScrollspy

javascript libs

Monday, February 6, 2012
MooTools Forge | moostrapScrollspy
MooTools Forge | moostrapScrollspy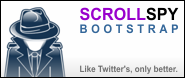 This is a port of the Twitter Scrollspy to MooTools, originaly written by Arian Stolwijk. It extends it further and makes it more flexible, allowing you to set the dependencies between trigger element and target element in whichever way you like, as well as provide an Event API that can help with scripting of effects on the trigger or on the target element.
Releases
Dependencies
_self_/_current_:

Core/Event
Core/Element
Core/Array
Core/Class
---
How to use
Read the source code.
```javascript
new moostra
Additional text has been truncated due to copyright reasons. Things without URLs and private things don't get truncated.