About thinkery
Thinkery is a fast and lightweight tool for storing notes, bookmarks, todos, organized through #hashtags. Bookmarks are stored in full-text. Android and iOS app available.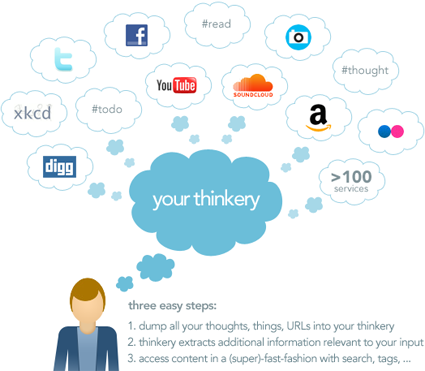 simply dump all your thoughts, things, URLs into your thinkery
thinkery extracts additional information relevant to your input
making it accessible in a (super)-fast-fashion with search, tags, ...
Examples
Input
→
Result
#Buy birthday present for #gf
→
Files it under the tags "buy" and "gf".

Done? Archive it.

http://www.youtube.com/watch?v=FNf9_0w5qzw
→
Displays the YouTube player and saves it under the tag "video". By the way, this also works with 100 other services like Soundcloud, Flickr, CNN, Twitpic, twitter, etc.

Don't like the video anymore? Delete it.

Work harder! #thought
→
Files it under the tag "thought".

Want to extend your thought? Edit it.

http://www.amazon.com/Apple-iPhone-Black-Smartphone-32GB/dp/B0041E5G32/ref=sr_1_2?ie=UTF8&qid=1290795085&sr=8-2
→
Displays the product information with picture, price and customer reviews if available.

Don't want to spend money right now? Archive it.

Countless Possibilities
→
thinkery is your extended brain
Team
thinkery was lovingly crafted by appstretto in Berlin, Germany and Alexander Kirk in Vienna, Austria. (Remote-working works :)
We hope you love it as much as we do and are more than happy to receive your feedback.